| | | |
| --- | --- | --- |
| | | |
| | | | |
| --- | --- | --- | --- |
| Poster: | Cliff Hucker | Date: | Jan 23, 2010 6:20am |
| Forum: | GratefulDead | Subject: | Aloha kâkou! (TDIH) |
This Honolulu show is a true gem that for some reason doesnt recieve the accolades it deserves. Its packed with energy, extremely well played and has a really groovy vibe to it! The Dark Star, while not an epic, is a solid performance and how many '70 shows feature both Dark Star and a Cryptical/Other One Suite?
This show is firmly entrenched in my top ten for 1970, and its also a favorite of robthewordsmith who wrote up a stellar review for it back in 2007. Unfortunately, Rob who is quite magniloquent, doesnt review very many shows...
"Aloha!
May I recommend a brief vacation in Honolulu, courtesy of the Grateful Dead? Let the salt spray of the Pacific Ocean breezes blow away the lingering hangover of the recent forum excesses. This is as full of juicy goodness and acid tang as a freshly sliced pineapple.
A spirited and energetic China/Rider kicks things off in good style. Black Peter is an understated gem – a fine and affecting performance of a very fine song. Hard to Handle is so pumped it pulls your shorts up over your ears and steals your girl. "This is 1970, Jack. Not 56," says Jerry as the Dire Wolf two-steps into view. The first part of the proceedings comes to a shake-yer-booty conclusion with a rousing Good Lovin'. Nobody gives good lovin' like Pigpen could.
Part two. In sweeps a Cryptical Envelopment that makes your nerve ends tingle with anticipation. The drummers go off an a fast exploratory foray mapping the way ahead for Phil to head out on a bombing run and Jerry to rake the room with guitar tracer as we dive headlong into a powerhouse The Other One. You'll want to crank the bass and the volume for this one.
As the fireworks glow fades from the Cryptical Reprise a shining Dark Star swims into view over the horizon and weaves it's magic spell until St Stephen kicks you back from dream to reality. Pigpen takes centre stage once more to cap the evening with a down-dirty and funky Lovelight. Sadly, Lovelight cuts out just past the 32 minute mark, the only downside to this sterling performance. But I reckon by that time you'll be pretty happy with what you've had.
So get out those grass skirts and dance the blues away!"
robthewordsmith 10/11/07
The only things that I can add are that this show really starts to cook during the well jammed Good Lovin' and does not let up for a minute before the conclusion of a jammed out (but tragically cut) performance of Lovelight that I consider to be one of the best ever! The Goodbear sound quality (A/A+) is dynamite! Mahalo â nui...
1/23/70 - Honolulu Civic Auditorium
China Cat Sunflower> I Know You Rider, Black Peter, Hard To Handle, Mama Tried, Dire Wolf, Good Lovin'-> Drums-> Good Lovin', Cryptical Envelopment-> Drums-> The Other One-> Dark Star-> St.Stephen> Turn On Your Love Light
http://www.archive.org/details/gd70-01-23.sbd.fixed.connor.18153.sbeok.shnf
This post was modified by Cliff Hucker on 2010-01-23 14:20:28
| | | | |
| --- | --- | --- | --- |
| Poster: | Agricola | Date: | Jan 23, 2010 8:01am |
| Forum: | GratefulDead | Subject: | Re: Aloha kâkou! (TDIH) |
I'm listening to this now. Good stuff.
| | | | |
| --- | --- | --- | --- |
| Poster: | Dhamma1 | Date: | Jan 23, 2010 7:50am |
| Forum: | GratefulDead | Subject: | Re: Aloha kâkou! (TDIH) |
I was intrigued by what this reviewer says about the venue and small crowd:
"I was there for one of these two nights, been so long that I don't remember which night... And the second comment was about the shows apparent lackluster. The Dead just hadn't become the popular item they were to be later. There was only about 75 people in the audience. Hard for a group to get really enthused about playing when there is such a small crowd. The auditorium would probably hold 2500 if it was filled to capacity. I still enjoyed the show a lot."
It's a lovely little often-overlooked show, with fun versions of the first set songs and mature versions of the psychedelic classics.
| | | | |
| --- | --- | --- | --- |
| Poster: | robthewordsmith | Date: | Jan 23, 2010 11:29am |
| Forum: | GratefulDead | Subject: | Re: Aloha kâkou! (TDIH) |
Hey, Cliff! Thank you - you're too kind. Your words are much appreciated.
| | | | |
| --- | --- | --- | --- |
| Poster: | daliguana | Date: | Jan 23, 2010 7:18am |
| Forum: | GratefulDead | Subject: | Re: Aloha kâkou! (TDIH) |
I was 72 hours old!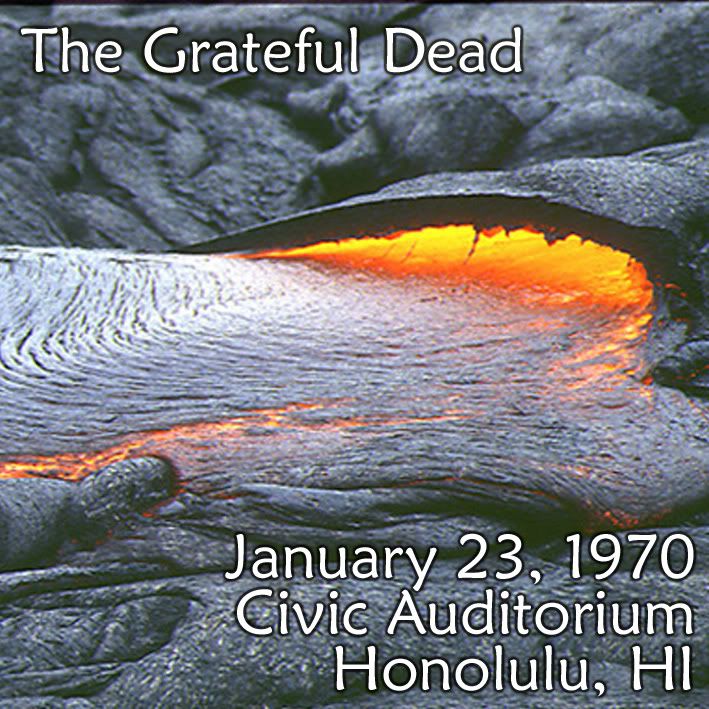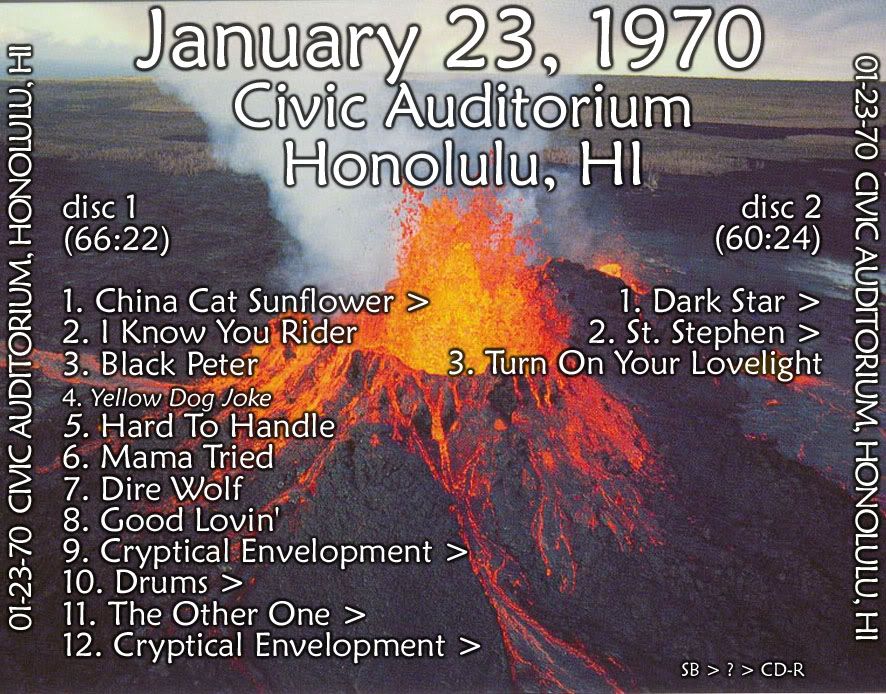 | | | | |
| --- | --- | --- | --- |
| Poster: | SkyDawg | Date: | Jan 24, 2010 1:24am |
| Forum: | GratefulDead | Subject: | Re: Aloha kâkou! (TDIH) |
These Honolulu shows were played at the Honolulu Civic. The Dead were on vacation. They were checking out Dan Healy's work on a new recording studio for Quicksilver that Healy was building out of an old WWII bunker. Santana also recorded there too. This was just a loose show. The band was there to relax, probably smoke some Hawaiian weed and lay back. They would play another show a few months later, in June... another great show!
They were not well-known in Hawaii.
The promoter, Tom Moffat, would later promote some great shows, like the Stones and Zeppelin. In 1970 when the Grateful Dead played, the band that drew the biggest crowds in Hawaii were the"Rascals".
One of my big regrets was scheduling a book signing by the promoter. It was canceled. I had many questions...
His book was about the shows he promoted, called "Tom Moffat Presents". He had become the local "Bill Graham". A big fish in a small pond. I wanted to ask him about Rock Scully's account of how a millionaire wanted to throw his money away to the crowd in one dollar bills at one of the Honolulu shows in 1970. It seems LSD had changed the man's priorities. I wanted to ask him the truth about that, just to set the record straight. I didn't get the chance. I was really disappointed about that. He had some cool stories to tell in his book! I wish I could have asked him a few questions!
This post was modified by SkyDawg on 2010-01-24 09:24:15
| | | | |
| --- | --- | --- | --- |
| Poster: | csaw44 | Date: | Jan 23, 2010 9:24am |
| Forum: | GratefulDead | Subject: | Re: Aloha kâkou! (TDIH) |
ohh hell yea great show! i guess i was too mixed up inb '68 land and almost passed this up! thanks cliff. and the next night is just as good. killer Mason's and Cumberland
| | | | |
| --- | --- | --- | --- |
| Poster: | deadmax | Date: | Jan 23, 2010 8:52am |
| Forum: | GratefulDead | Subject: | Re: Aloha kâkou! (TDIH) |
I've loved this show from the first time I listened. I wanted to listen to all the shows I had from 1970 so I made myself listen to ALL of them. Of course, this was quite easy to do. This one stood out for it's intensity.
The Lovelight is almost 40 min. and it is also T.C.'s second to last show.
| | | | |
| --- | --- | --- | --- |
| Poster: | William Tell | Date: | Jan 23, 2010 7:33pm |
| Forum: | GratefulDead | Subject: | Re: Aloha kâkou! (TDIH) |
Finally got around to this...great find, CLIFF--and I mean the review by Rob! You learn something everyday. Funny, but this show is just soooo overlooked for me personally that I can't even recall listening to it...period. And I know I did at some point. I know that I've talked about it with DHead and our other HI residents/visitors since I was there, in HonoLEWlou, just three weeks before the show chasing geckos and marine toads. Gotta dig this one out. I still have the coconut I brought back.